My enthusiasm for the motor car started at a very early age, no doubt encouraged by my Father's interest, when I was the only boy in my class whose Father had a car, a Wolseley 14, which I first drove at the age of about eleven.
I passed my driving test shortly after my 17th birthday and my first car was a Renault 4, which I bought by the age of 20. During my teens I was involved with the scouts and learnt to map read which taught me the very basics of navigation as well as an introduction into rallying. I won the Kent Scouts Vehicle Venture, firstly as a navigator and then as a driver the following year.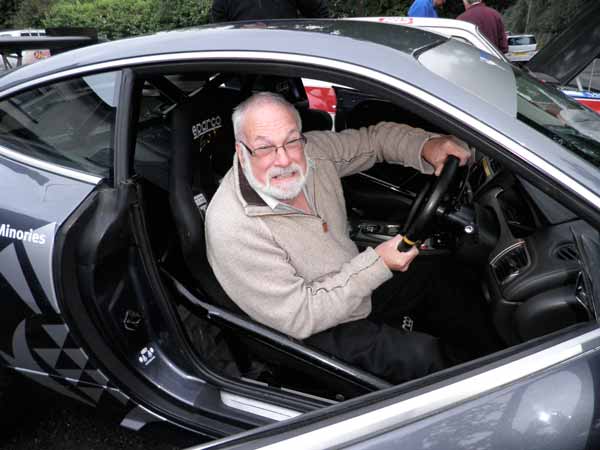 In the early sixties I met Dick Mullis who introduced me to TWMC and my first experience of an event was as a marshal at the Brands Hatch Sprint, the membership was 7s 6d duly paid, and my first Autotest brought a class award in an 850 Mini. I soon progressed to the legendary Mini Cooper and the next four years saw club motor sport at its heyday with an event nearly every weekend. I Hill Climbed, Autocrossed, Sprinted, Autotested, PCT'd and Rallied with many class and category wins.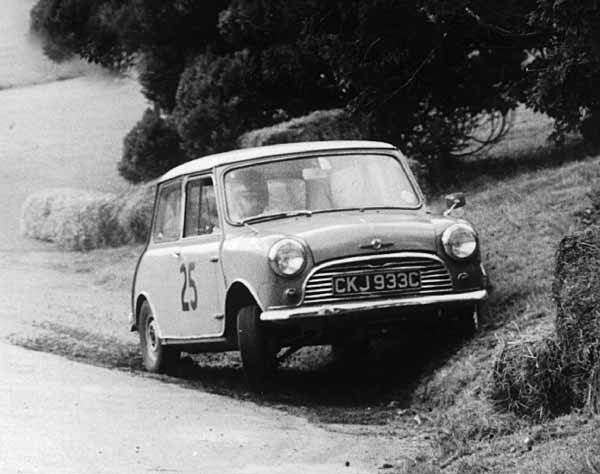 During this period there were highlights, lowlights, but most of all numerous "classic" moments of enjoyment. My late Father who was Club Chairman in the late sixties, always supported and provided the odd car to compete in: An Imp which brought many class wins in PCT's as well as a Twin Can Escort and an MGB for Autotests etc.
One of the constituent parts of club motor sport is the late nights preparing the car for the next event, one of which lead to a bank climbing episode at Valance Hill Climb. My Mini Cooper was lacking in the back department so I decided to purchase Cooper S drive shafts, disc and callipers, which unbeknown to me increased the turning circle by four feet! (see picture above)
The late sixties saw a change of seat and many rallies as navigator to Brian Gunner's Cortina GT and Pete Butler's indecently quick Beetle. Various awards followed, including being first Kentish crew in a Welsh based rally. Three caravan rallies complimented that period with results just behind the works teams giving great satisfaction.
A Cooper S then arrived on the scene with many more successes until cupid struck and wedded bliss saw the end of the competition car (Fortunately my wife Sue's interest led to her involvement as club secretary and as an official at many meetings).
To my surprise and delight Sue said "why don't we get an MGB Roadster?", which we did and it gave over five years of events and many awards in the big sports car class.
Although I cannot claim to have had the success of others in the club I can say that club motor sport has and still does give me a great deal of pleasure. You don't have to be a winner to enjoy your own success (but it helps).
Throughout most of the thirty years or so with the club I have served on the committee in a variety of capacities and been involved in event organisation working my way up from marshalling to senior officiating at all sorts of events, which range from autotests to rallycross, PCT's to race meetings.